This article is dedicated to get knowledge about  Karunanidhi Family Tree, Family Tree of Kalaignar Karunanidhi, MK Karunanidhi Family tree diagram, family photos of Karunanidhi family, Karunanidhi family, members & photos.
இன்று, இந்த கட்டுரையின் மூலம், கருணாநிதி குடும்ப மரம் குடும்ப மரம் பற்றிய விரிவான தகவல்களைப் பெறலாம் | Muthuvel Karunanidhi is a well known name in Indian Politics and in Tamil film industry. He was born in a small village, Thirukkuvalai in Madras presidency of British rule on 3rd June, 1924. Later, this little kid became the most famous name in the politics of Tamil Nadu state and elected as the chief minister of the state five times. He belongs to DMK (Dravida Munnetra Kazhagam) political party and became the president of DMK for the ten times.
He also contributed in Tamil film industry as a screenwriter, referred with the name Kalaignar. He got died on 7th August, 2018. Now other members of his family also active in politics and Tamil cinema. Further, in this article, we will discuss about Karunanidhi family tree to know the details of his family members.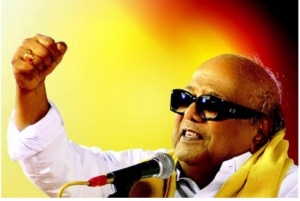 Family Tree of MK Karunanidhi with Photos:
Muthuvel Karunanidhi was the patriarch of his family in Tamil Nadu state politics and in Tamil film industry.
He started his career as a film screenwriter and later on joined the politics under DMK party. In his personal life, he got married thrice.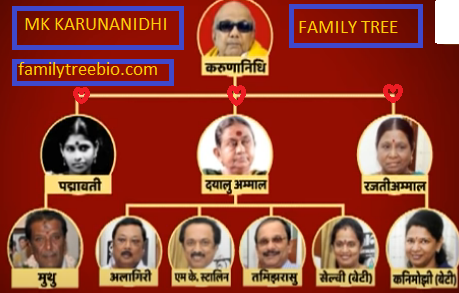 He got married with Padmavati Ammal in 1944 and they got M.K Muthu as his son.
After the death of his first wife, he got married with Dayalu Ammal in 1948. From his second marriage, he got three sons namely M.K Alagiri, M.K Stalin, M.K Tamilarasu and a daughter Selvi.
Later on, he also got married to Rajathi Ammal in 1966 and got his 6th child, M.K Kanimozh. Karunanidhi's son M.K Muthu got married to Sivagamisundari and they got two children, a son & a daughter.
His son M.K Alagiri got married to Kanthi and blessed with one son and two daughters.
His son M.K Stalin got married to Durga and got two children including one actor son. His son Tamilarasu got married to Mohana and blessed with a son.
Also Read:
M.K Stalin Family Tree:
MK Karunanidhi choose his son M.K Stalin as his successor in the politics of the Tamil Nadu state. M.K Stalin is a well known name in the politics of state and became the president of DMK after the death of his dad.
He was born on 1st March, 1953. He also served as the Deputy Chief Minister of Tamil Nadu from 2009-2011. He is also serving as the current Chief Minister of the state.
He got married to Durga Stalin and got blessed with a son and a daughter. He also elected as MLA four times.
His son Udhyanidhi Stalin is also a well known name in Tamil Cinema who is an actor, producer and also active in the politics of the state.
Other Important Members of Karunanidhi Family:
Elder son of Karunanidhi, M.K Muthu is an Indian actor, producer, singer and a well known politician in Tamil Nadu state.
Karunanidhi's elder son from his 2nd wife, M.K Alagiri is also a well known politician and also elected as Cabinet Minister of Chemicals and Fertilizers in UPA govt.
Karunanidhi's  grandnephew Kalanithi Maran is chairman and managing director of SUN TV network which is the second largest network of India.
His other grandnephew Dayanidhi Maran is also a politician.
We hope all the information about Karunanidhi Family Tree mentioned above will be helpful for all our readers to enhance their knowledge about this family.
You may also Like: