This article is dedicated to know about Pratik Gandhi family including his father, mother, wife, daughter & other members. We will also discuss about Pratik Gandhi age, height, movies list, Gujarati shows, wiki, photos, biography & other aspects related to his life.
Pratik Gandhi is well-known Indian actor who works for Gujarati film industry & theatre but also getting pan Indian popularity by acting in webseries & movies in Hindi language. Actor Pratik Gandhi belongs to a Surat based middle class family & he was born on 29th April, 1980. Actor Pratik Gandhi always wanted to work in theatre and showbiz industry & he started to work for theatre alongside his job as an engineer. Pratik Gandhi started his career in Gujarati play, Aa Paar Ke Pele Paar in year 2005 and started to act in Gujarati movies in 2014 when he appeared in movie, Bey Yaar. Actor Pratik Gandhi got immense popularity when he portrayed the iconic role of Harshad Mehta in the webseries, Scam 1992. Presently he has established himself in the industry as an actor and working of multiple projects in different languages. Here in this article, we will provide sufficient information about Pratik Gandhi age, height, family, acting career, wiki movies & biography in detail.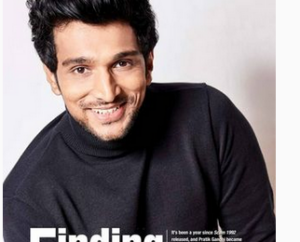 Pratik Gandhi Age & Height:
As we have mentioned it earlier in our article that actor Pratik Gandhi was born in a Surat, Gujarat based family on 29th April, 1980 & hence we can conclude that he is presently 41 years old as in year 2021. Height of actor Pratik Gandhi is nearly 5 feet & 9 inches or 174-176.
| | |
| --- | --- |
| Pratik Gandhi Age (as in 2021) |        41 Years |
| Pratik Gandhi Height |    5 feet & 9 inches or 174-176 cm |
Pratik Gandhi Family:
Actor Pratik Gandhi belongs to a middle class Gujarati family where he lives with his parents, wife & children.
There is not much information about Pratik Gandhi's father available on social media but both his parents were teachers.
His mother's name is Smt. Rita Gandhi & she served as a teacher for several years.
Actor Pratik Gandhi is also having a younger brother whose name is Punit Gandhi.
Pratik Gandhi's sister name is Meghna Chitalia.
Pratik Gandhi got married to Bhamini Oza who is also a Gujarati actress.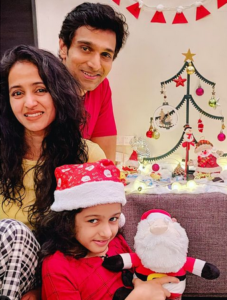 Pratik Gandhi & Bhamini Oza blessed with a daughter whose name is Miraya.
Pratik Gandhi Education, Movies, Webseries, Wiki & Biography:
Pratik Gandhi completed his schooling from V.D Desai Wadiwala High School from Surat in Gujarat.
Then he completed his engineering in Production Engineering from Kavayitri Bahinabai Chaudhary North Maharashtra University.
After completion of his engineering degree, he started to work with Reliance Industries Ltd at day time and did theatre in night.
As an actor, he got his first opportunity to work in Gujarati play Aa Paar Ke Pele Paar in year 2005 and got appraisal for his performance.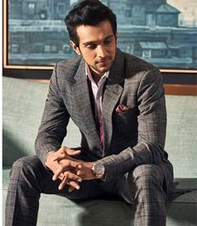 He also registered his name in Limca Book of Records when he performed a monologue for his play, Mohan's Masala in three different languages including Engligh, Hindi & Gujarati.
He performed as an artist in several Gujarati shows like Apurva Avsar, Bohot Nachyo Gopal, Mohan Na Masalo, Mere Piya Gaye Rangoon, Sir Sir Sarla etc.
He started to work in Gujarati cinema with film Bey Yaar in year 2014 & several other Gujarati movies like Wrong Side Raju, Tamburo, Love Ni Bhavai, Ventilator, Dhunki, Luv ni Love Storys etc.
His movie, Wrong Side Raju was a commercial superhit movie & it won National Award for Best Gujarati Movie.
He also appeared in several Hindi movies like Loveyatri, Mitron, Bhavai, Shimmy etc.
He got immense popularity and fan following when he appeared in webseries, Scam 1992 where he played the role of Harshad Mehta.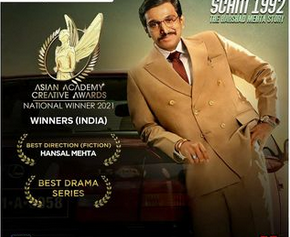 He also worked in some other web series like Star vs Food, Gangistaan etc.
Also Read:
| | |
| --- | --- |
| Johnny Lever Family, Films, Net Worth & Biography | Click Here |
| Saif Ali Khan Family, Films, Net Worth & Biography | Click Here |
| Govinda Family, Films, Net Worth & Biography | Click Here |
| Pankaj Tripathi Age, Family, Films & Biography | Click Here |
Pratik Gandhi Awards & Social Media Presence:
Actor Pratik Gandhi was awarded with 2021 Indian Television Academy Award for Best Actor (series) for his performance in the Scam 1992.
He was awarded with 2021 Filmfare OTT Award in Best Actor (male) category for his performance in webseries Scam 1992.
He has a separate fan base on social media with more than 1.1 million followers on his Instagram account & with nearly 1 lakh followers on his twitter handle.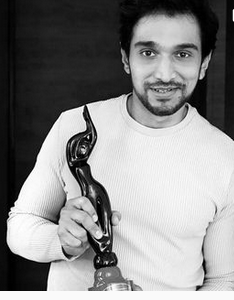 We hope all the information provided here about actor Pratik Gandhi will be full of interesting facts and inspiration for all our readers.
You May Also Like:
| | |
| --- | --- |
| Rohit Shetty Family, Films, Net Worth & Biography | Click Here |
| Kapil Sharma Family, Films, Net Worth & Biography | Click Here |
| Anil Kapoor Family, Films, Net Worth & Biography | Click Here |
| Bhatt Family, Films, Net Worth & Biography | Click Here |
| Isha Talwar Films, Net Worth & Biography | Click Here |