This article is dedicated to know about Pandavas Family Tree, Family Tree of Pandavas with photos, Pandavas Family Chart PDF.
Pandavas, a name originated for the descendants of King Shantanu who belongs to Kuru dynasty. Pandu was born to Ambalika and Shantnu and became the king of Hastinapur after the death of Shantanu. Firstly he got married to Kunti and got three sons namely Yudhisthira, Bhima And Arjun and then he got married to Madri and blessed with two sons from this marriage namely, Nakula and Sahadev. All the five sons of King Pandu collectively referred as Pandavas. In future they battled with Kauravas in Kurukshetra to get their rights and won the battle with the help of Lord Krishna. Draupdi, daughter of King Draupd got married to all the five pandavas and she gave birth to five sons, each from her each husband. But all the five sons of Draupdi were killed in the Mahabharata battle. One of the Pandavas, Arjun got married to Subhadra and they got Abhimanyu as their son. They established a city Indraprastha nearby Hastinapur and ruled over there. In this article, you will get to know details of each of Pandava through Pandavas family tree, Pandavas family tree with photos to make it simple to understand for our readers.
A Pictorial representation of Family Tree of Pandavas:
We have made a chart diagram to make it easy to understand generation wise for the whole Kuru dynasty and for Pandavas separately. Family tree of Pandavas represents descendants of King Pandu. It represents the marriages done by Pandavas and about children they got from all these marriages.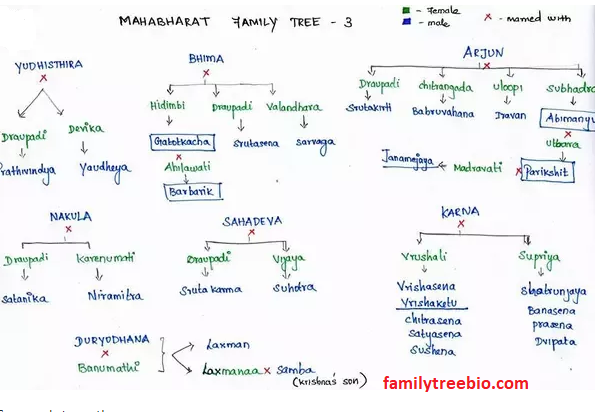 Family Tree of Pandavas in detail:
As we discussed earlier in this article, family tree of Pandavas represents two marriages done by Pandu and about their children. Pandu and Kunti gave birth to Yudhisthira, Bhima and Arjun and Pandu and Madri gave birth to Nakula and Sahadev.
Draupdi was married to all the five brothers. Elder son of Pandu, Yudhisthira also got married to Devika and they got a son named Yaudheya. Bhima married to Hidimba and blessed with a boy Ghatotkach who was killed during battle of Kurukshetra.
Bhima also blessed with son Sarraga from his different wife.
Arjun also blessed with four children from his four different wifes. He got his son Abhimanyu from Subhadra, Iravan from Uloopi, Babruvahana from Chitrangada and Shrutkirti from Draupdi.
Bhima also got a son named Shrutasena from Draupdi.
Yudhisthira got blessed with Prativindhya from Draupdi.
Nakula got his son Satanika from Draupdi and Niramitra from his wife Karenumati.
Sahadev got his son Srutakarma from Draupdi and Suhdra from his different wife.
Later on, Arjun's son Abhimanu got married to Uttara and gave birth to Prikshita who also became a great king in future.
We hope all the information provided here about popular Pandavas dynasty is full of interesting facts and knowledge for all our readers.